Preliminary Data on Reported Weather Modification Activities in the U.S. for CY 1983 and 1984
Abstract
Public Law 92-205, enacted in 1971, requires that all nonfederally sponsored attempts to modify the weather be reported to the Secretary of Commerce. Responsibility for administering the reporting program was delegated by the Secretary to the National Oceanic and Atmospheric Administration (NOAA). In 1973 Federal agencies agreed to report their weather modification activities to NOAA. Since then the reporting program files have become a unique source of information on weather modification projects undertaken in the United States and its territories. Timely reporting of activities supplies information that can be used to assess the possibility of harm to persons, property, or the environment, or of interference with federal or other research projects. The data are also used to show the trends in weather modification activity over the years and around the country.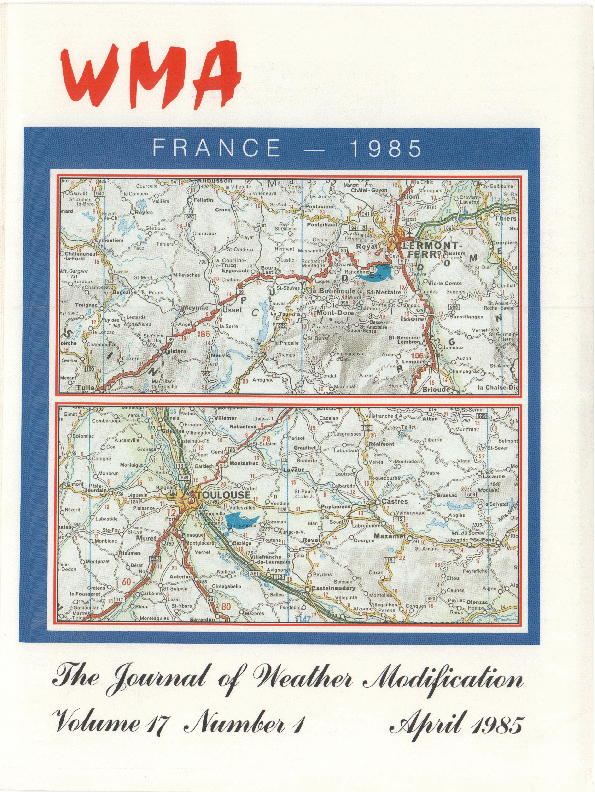 Downloads
How to Cite
Corzine, H. A. (1985). Preliminary Data on Reported Weather Modification Activities in the U.S. for CY 1983 and 1984. The Journal of Weather Modification, 17(1), 74–75. https://doi.org/10.54782/jwm.v17i1.490
Section
Technical Notes and Correspondence
License
Authors that submit papers for publication agree to the Journal's copyright and publication terms. Authors retain copyright and grant the journal right of first publication with the work simultaneously licensed under a Creative Commons Attribution License that allows others to share the work with an acknowledgement of the manuscript's authorship and initial publication in Journal of Weather Modification. Authors are able to enter into separate, additional contractual arrangements for the non-exclusive distribution of the journal's published version of the work (e.g., post it to an institutional repository or publish it in a book), with an acknowledgement of its initial publication in the Journal of Weather Modification. Authors are permitted to post their work online (e.g., in institutional repositories or on their website) prior to and during the submission process to encourage productive exchanges and greater citation of the published article.
Articles are published online using restricted access for the first year. After the first year, articles are made freely available online. Immediate open access for an article may be obtained by the author paying an open access fee which is in addition to the normal page changes. Authors are expected to honor a page charge in order to support publication and distribution of the journal. After the author approves the gallery formatted version for publication, the Weather Modification Association's Secretary will invoice the corresponding author for the page charges and payment is due within 30 days.