Quantitative Diffusion Estimates of Cloud Seeding Nuclei Released from Airborne Generators
Abstract
Quantitative diffusion estimates of cloud seeding materials released from airborne generators are presented for a varietyof meteorological and delivery modes. These studies focus primarily on the case of broadcast seeding of an area downwind from a line of seeding along which the seeding air craft fly in a patrol mode.
The computational technique assumes that the release by aircraft of the seeding material can be the integrated contributions segments of the line of seeding, of equal length, each of which is considered to act as instantaneous dimensionsof the target area of Israeli II. The results suggest that:
i) Under the given conditions of aircraft performance, nuclei output of the airborne generators and meteorological conditions, the dispersed concentrations of the seeding material within the target area are, in principle, within the limits required for "static" seeding for microphysical effects.
ii) Regions of maximal exposure times to optimal concentration of cloud seeding nuclei are found downwind at distances of 20 to 50 km from the line of seeding
iii) Increased area coverage of seeding can be obtained primarily by increasing the numbers of seeding aircraft rather than by increasing the nuclei output of the airborne generators.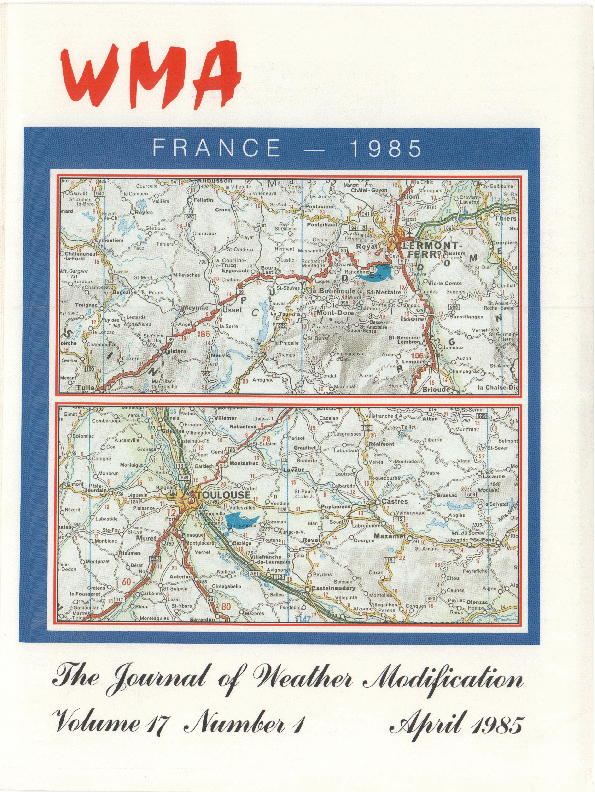 Downloads
How to Cite
Gagi, A., & Aroyo, M. (2012). Quantitative Diffusion Estimates of Cloud Seeding Nuclei Released from Airborne Generators. The Journal of Weather Modification, 17(1), 59–69. https://doi.org/10.54782/jwm.v17i1.113
Section
Scientific Papers
License
Authors that submit papers for publication agree to the Journal's copyright and publication terms. Authors retain copyright and grant the journal right of first publication with the work simultaneously licensed under a Creative Commons Attribution License that allows others to share the work with an acknowledgement of the manuscript's authorship and initial publication in Journal of Weather Modification. Authors are able to enter into separate, additional contractual arrangements for the non-exclusive distribution of the journal's published version of the work (e.g., post it to an institutional repository or publish it in a book), with an acknowledgement of its initial publication in the Journal of Weather Modification. Authors are permitted to post their work online (e.g., in institutional repositories or on their website) prior to and during the submission process to encourage productive exchanges and greater citation of the published article.
Articles are published online using restricted access for the first year. After the first year, articles are made freely available online. Immediate open access for an article may be obtained by the author paying an open access fee which is in addition to the normal page changes. Authors are expected to honor a page charge in order to support publication and distribution of the journal. After the author approves the gallery formatted version for publication, the Weather Modification Association's Secretary will invoice the corresponding author for the page charges and payment is due within 30 days.