Potential Benefits To Agriculture of Augmenting Precipitation
Abstract
This paper discusses ongoing research intended to develop a clearer understanding of the impact of weather modification on a portion of the agricultural sector of the U.S. economy, the feed-livestock complex. The research framework models the interactive effects of changing weather, technology, government policies, and demand on market prices. Supply and demand relations may be estimated and solved within the context of a simultaneous equation econometric model. Within the model, crop yield response relations must be estimated at an appropriate level of geographical aggregation to ensure uniform measurement of weather modification effects. An econometric technique, based on the use of binary variables, is proposed as means for selecting geographical aggregates. The transmission of the "weather effect" to the agricultural sector is accomplished in the supply-demand model. Benefits accruing to various market participants may then be identified under alternative scenarios of weather modification.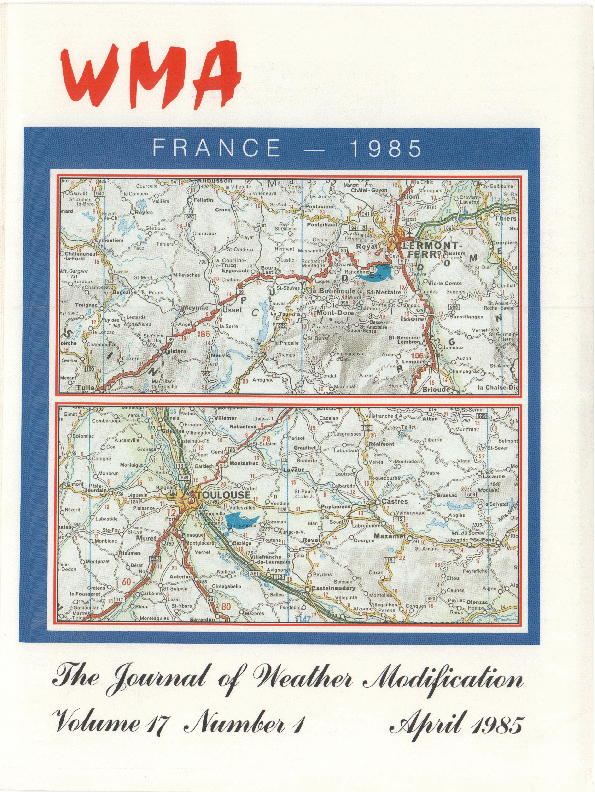 Downloads
How to Cite
Offutt, S. E., Garcia, P., & Pinar, M. (2012). Potential Benefits To Agriculture of Augmenting Precipitation. The Journal of Weather Modification, 17(1), 23–29. https://doi.org/10.54782/jwm.v17i1.107
Section
Scientific Papers
License
Authors that submit papers for publication agree to the Journal's copyright and publication terms. Authors retain copyright and grant the journal right of first publication with the work simultaneously licensed under a Creative Commons Attribution License that allows others to share the work with an acknowledgement of the manuscript's authorship and initial publication in Journal of Weather Modification. Authors are able to enter into separate, additional contractual arrangements for the non-exclusive distribution of the journal's published version of the work (e.g., post it to an institutional repository or publish it in a book), with an acknowledgement of its initial publication in the Journal of Weather Modification. Authors are permitted to post their work online (e.g., in institutional repositories or on their website) prior to and during the submission process to encourage productive exchanges and greater citation of the published article.
Articles are published online using restricted access for the first year. After the first year, articles are made freely available online. Immediate open access for an article may be obtained by the author paying an open access fee which is in addition to the normal page changes. Authors are expected to honor a page charge in order to support publication and distribution of the journal. After the author approves the gallery formatted version for publication, the Weather Modification Association's Secretary will invoice the corresponding author for the page charges and payment is due within 30 days.